What Are My GWG L Bonds Worth?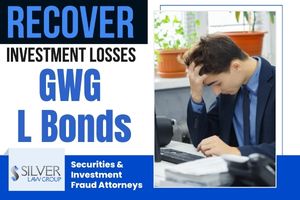 Silver Law Group represents investors in arbitration claims against the broker-dealers that sold GWG L Bonds. Silver Law Group, along with co-counsel, also filed a class action complaint directly against GWG Holdings and several of its principals to recover losses suffered by L Bond investors.
L Bond investors have grown concerned over the past few months as GWG missed key SEC filing deadlines and ultimately failed to make scheduled interest payments to investors. In January 2022, GWG announced to investors that it was "evaluating alternatives with respect to its capital structure and liquidity." April 2022 brought more bad news for investors, as multiple news sources, including the Wall Street Journal, have reported that GWG is preparing to declare bankruptcy. While many hoped they would be able to recoup their L Bond investment, recent announcements and news point to a likelihood that L Bond investors will suffer substantial losses.
L Bonds Are Illiquid
Regardless of whether GWG declares bankruptcy, L Bonds are an "illiquid" investment, meaning there is no market for the purchase or sale of the L Bonds currently held by investors. Moreover, while GWG previously permitted investors to "redeem" (sell back) their L Bonds with just a 6% penalty, GWG has now suspended all redemptions of L Bonds, leaving investors stuck with these investments.
GWG Has Suspended Interest Payments
Even though L Bond investors purchased these products with the expectation that they would receive monthly interest payments at a rate ranging from 5.5% to 8.5%, due to the financial crisis GWG is facing, it has opted to suspend interest payments to investors, cutting off the steady income that drew many investors to these products in the first place.
Regardless of whether GWG ultimately declares bankruptcy, due to the financial issues GWG is facing, it is unlikely that GWG will ever resume these payments.
GWG L Bonds Are Likely Only Worth A Small Percentage Of Their Purchase Value
The unfortunate reality for investors is that once GWG completes its restructuring or bankruptcy process, L Bond investors should only expect to receive a small percentage of their principal investment back.  Moreover, GWG's restructuring or bankruptcy is likely to last multiple years before final resolution for L Bond investors.
L Bond Investors May Have A Claim Against Their Brokers And Financial Advisers For The Improper Sale Of L Bonds
L Bond investors may have potential claims against their brokerage firms and financial advisers for the improper sale of L Bonds. Among other things, brokerage firms are obligated to conduct due diligence on the investments they recommend, to only recommend investments that are suitable to each investor's specific financial situation and needs, and to diversify investors' portfolios so as not to subject them to outsized risk in one speculative and/or illiquid product such as L Bonds.
Silver Law Group represents dozens of L Bond investors and has already filed arbitration claims against several brokerage firms for the improper sale of L Bonds.
Worried About Your L Bond Investment? Contact Silver Law Group To Discuss Your Options
Silver Law Group represents the interests of investors who have been the victims of investment fraud and other financial misconduct. Managing Partner Scott Silver is the chairman of the Securities and Financial Fraud Group of the American Association of Justice and represents investors nationwide in securities investment fraud cases. If you or someone you know invested in L Bonds, please contact Silver Law Group for a confidential consultation at ssilver@silverlaw.com or toll free at (800) 975-4345. We often work on a contingency fee basis, meaning you don't owe us anything unless and until we recover for you.