Seeman Holtz And Para Longevity Notes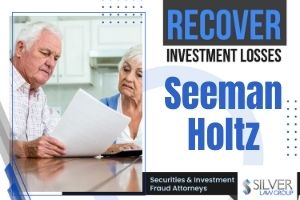 Seeman Holtz, a Boca Raton-based company, is auctioning 100% of its property and casualty business. Silver Law Group has filed two lawsuits against Seeman Holtz on behalf of investors who were sold unregistered promissory notes in Para Longevity and other offerings. The lawsuits allege that investors were not paid when their notes matured.
Investors Are Owed Principal
Many Seeman Holtz investors allege they have not received principal back after their promissory notes matured. Investors have been told to wait for the company to recapitalize, which they were told would allow the company to pay investors their principal. Despite these assurances, investors continue to wait.
BocaNewsNow.com reported that Seeman Holtz received $4,269,400 in PPP money, and that Marshall Seeman listed his home in Boca Raton for sale for $8,650,000.
Seeman Holtz Is Alleged To Have Sold Unregistered Securities
Seeman Holtz is named for its founders Marshal Seeman and Eric Holtz. The company is an insurance agency and is not licensed as a broker-dealer with state or federal regulators.
State and federal laws require registration and make it illegal for a person to induce the sale or purchase of securities or to effect securities transactions unless they're properly registered. Broker-dealers are regulated by and required to be registered with the Financial Industry Regulatory Authority (FINRA).
The lawsuits filed by Silver Law Group, which were filed with two other firms, alleges that sales representatives with Seeman Holtz wrongly induced investors (plaintiffs in the suit) to buy unregistered securities.
The complaint states that Seeman Holtz used unregistered dealers to sell promissory notes "to seniors, including Plaintiffs and others, by telling investors that the notes, including the Notes at issue in this case, were safe and secure and would be collateralized by a portfolio of life insurance policies which would provide safety of principal and substantial returns."
The complaint alleges that the above representations were false and misleading due to the entities not having collateral or being undercollateralized, and other reasons.
Notice of Seeman Holtz auction of its property and casualty business appeared on the website of Rock Creek Advisors. The auction is to occur Monday, June 14 in Delaware.
Contact Silver Law Group If You Are A Seeman Holtz Investor
Silver Law Group represents investors who have losses from unregistered investments, including promissory notes like Para Longevity.
If you invested in any of Seeman Holtz's offerings, contact Silver Law Group for a confidential consultation at (800) 975-4345 or email ssilver@silverlaw.com. This blog may be considered attorney advertising and should not be relied upon by any person as personal legal advice or creating an attorney-client relationship.